参加者のご案内/Information for Participants
Registration
Date & Time:

March 27, 8:00–17:30
March 28, 8:00–17:30
March 29, 8:00–13:30



Location:

Entrance Hall 1F, Fukuoka International Congress Cente
r


On-site Registration Fee:

| Category | Member | Student Member | International Students | Nonmember |
| --- | --- | --- | --- | --- |
| Fee | 12,000 | 5,000 | 3,000 | 16,000 |

(Currency: JPY)
The program booklet is purchasable at JPY3,000 per copy.
All students and international students are required to show their student ID.
Wear your name-badge during the meeting.
For those who completed advance registration, you don't need to register on site. Please wear your name-badge which will be mailed to you prior to the meeting and enter the meeting rooms. Please note that we send the name-badges to those who completed both advance registration and payment. If you haven't completed payment, please pay on-site registration fee at the registration desk.
* There will be no abstracts booklets for JSB2018. The abstracts will be available through J-STAGE from the end of February, 2018 (tentative).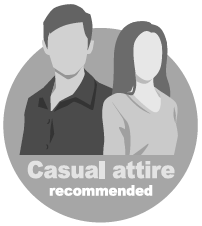 No Suit! No tie!
We recommend all participants to dress casually.
Mixer
To facilitate interaction among participants, drinks and snacks will be provided in the poster presentation room. No banquet will be held this year. We look forward to your active participation to the poster presentations.
* No advance registration required, on-site registration only.
Date: March 27 and 28
Alcohol and soft drink: JPY100 for each glass
Light meal: JPY100 per dish
Luncheon Seminars
Since the number of boxed meals which will be served at the luncheon seminars is limited, the luncheon seminar tickets will be distributed in the morning of the each luncheon seminar day.
◆ Ticket Distribution
Date & Time:

March 27, 8:00–11:00
March 28, 8:00–11:00
March 29, 8:00–11:00



Location:

Entrance Hall 1F, Fukuoka International Congress Center
* You can exchange the luncheon seminar tickets to the boxed meals which will be provided by cosponsoring companies or groups.
The tickets for each seminar will be distributed at the day each seminar will be held. Ticket distribution will be closed as all the tickets are distributed.
◆ Notes
Luncheon Seminar Ticket is invalid once the seminar starts.
After the morning programs end, please come to the seminar room before it starts.
Please kindly note that your ticket will be invalid and the boxed meals will be distributed to the participants who have no tickets, if you don't show up at the seminar room by the start time.
Cloak
Date & Time:

March 27, 8:00–19:45
March 28, 8:00–19:00
March 29, 8:00–17:30



Location:

Entrance Hall 1F, Fukuoka International Congress Center
Please kindly note that:
The valuables and umbrellas cannot be accepted.
The cloakroom space is limited.
Exhibition
Exhibition by the companies will be held in the Exhibition space, Multipurpose Hall, 2F.
Others
There is no paging service, please use the message board near the Registration Desk.
Photography, video and sound recording with cameras, mobiles or any devices are prohibited within the meeting venue.
Use of mobiles is prohibited in presentation rooms. Please set your mobiles to silent mode or turn them off during the presentations.
Smoking is prohibited except in deck, 2F.